The most easy-to-use IP-PBX for Ubuntu/Linux
The most easy-to-use IP-PBX for Ubuntu/Linux
If you have tried miniSipServer on Windows platform, you can find it is so easy to configure or manage a IP-PBX because miniSipServer provides a perfect GUI interface.
You can find it is very easy to do that on Ubuntu/Linux because miniSipServer can support GUI interface on Ubuntu/Linux now!  WINE is unnecessary now!
Please visit our download page to download miniSipServer .deb packages according to your requirements:
http://www.myvoipapp.com/download
After you download .deb file from our website, please click (or double-click) it to install MSS. No more actions! So easy, so funny.
After you finish your install, you will find miniSipServer at "Applications / Internet" group.
Following figure is a screenshot of MSS running on Kubuntu: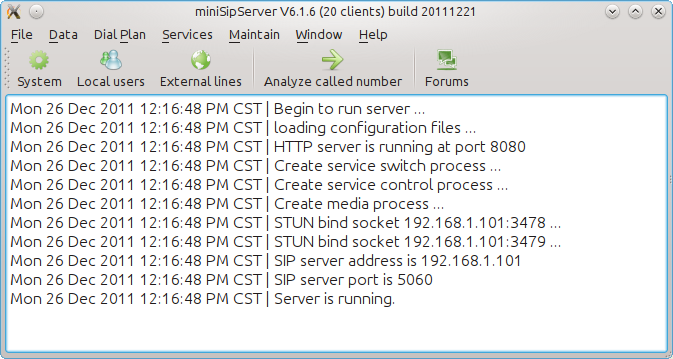 In another way, if you just want to run a command line sip server, you can also go to directory "/opt/sipserver" and find "msscli" which is a command-line miniSipServer and has the same core with GUI-miniSipServer.  You can manage and configure it through web interface.