An interesting feature
An interesting feature
Sometimes, we want to know the details of real-time call status, such as who is calling, how many incoming calls, and so on. In fact, miniSIPServer has a real-time CDR window which can display CDR records just finished their calls. That means the real-time CDR window only has a half real-time function, and it cannot display the details of calls which are still in calling status.
Obviously, we think we need to upgrade such windows to display more details. And here we get:

In the new window, the call which has been released or disconnected is in gray. If the call is calling, it will be in black. When the called party is ringing, it will be changed to be in blue. Once the called party answers the call, it will be red immediately.
So you can get real-time status of all concurrent calls. That's interesting.
Of course, you need to configure miniSIPServer to display real-time CDR and what kinds of CDR should be generated. Please click menu "data / system / call detail record" and get configuration below.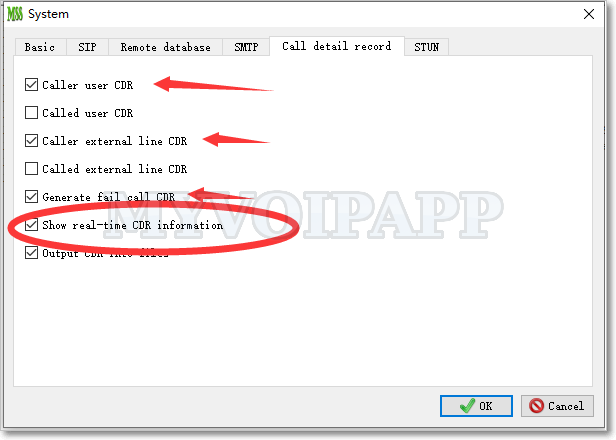 Most important, you need to configure "generate fail call CDR" and "show real-time CDR information" items. Please visit manual document for more details about other items.